Bicycling
Bicycles were first introduced in the 1830s, and by the 1880's, bicycling had become part of the national pastime. Bicycles serve many purposes today. They are used for serious sport, for casual recreation, for fitness, for medical rehabilitation, and for commuting to work or school. Because it is a low-impact sport, people of all ages can enjoy biking. Some communities are developing bike trails to enhance recreational biking and safety, while others have not yet responded to the current growing trend of bicycling.
Adults who grew up without owning bicycle helmets need to make adjustments to old habits. Today, they should always wear a helmet, both for their own safety and to set a proper example for children. In falls and collisions, helmets can reduce the risk of head and brain injuries by about 80% or more. Most bicycle injuries involve boys between the ages of 10 and 14, while adults make up the majority of the deaths. Unfortunately, adults are still less apt to wear helmets, making a fatal head injury much more likely in a fall or crash.
In June 2005, The American Academy of Orthopedic Surgeons formally issued a position statement supporting the passage of mandatory helmet laws, including for bicycle riders, in all states. According to that position statement, "Approximately 800 bicycle riders are killed each year. More than 540,000 bicyclists visit emergency rooms with injuries every year, and of those, about 67,000 have head injuries. Direct costs of cyclists' injuries due to not using helmets are estimated at $81 million each year." As of May 2009, twenty-nine states do not have any form of mandatory bicycle helmet law, including Texas.
Children are more likely to be involved in a serious fall or be hit by a car during the late spring, summer, and early fall months, when the weather is nice and they are out of school. They are playing in the street on their bicycles with their friends and not being careful to follow proper safety rules. These injuries usually occur within a mile of home, in the middle of the block, and in the afternoon and early evening hours, often during the time people are coming home from work.
If you are more than 40 years old, overweight, or generally out of shape, check with your physician before taking up bicycling or spinning. Ask you doctor to help you develop an exercise program where you will gradually improve your conditioning without creating overuse injuries in the process.
BICYCLE & BICYCLE SAFETY EQUIPMENT:
When buying a bicycle, be sure it is the right size for the rider. When sitting on the seat, the feet should touch the ground. Resist the temptation to buy a bike that is too big for a child thinking that he or she can "grow into it." A bicycle that is too small or too big is dangerous for the rider.
You never know when it will be necessary to be riding your bicycle at night. Be sure your bicycle has a front white light, able to be seen for at least 500 feet in front of the bicycle, and either a red reflector or a red light able to be seen from about 300 to 500 feet from the rear. If possible, use lights with LED's because the batteries last much longer than regular flashlight batteries.
Have a handlebar or helmet mirror so you can be aware of what is behind you without having to turn your head completely, losing sight of where you are going.
Maintain your bike to keep it in good working order. Periodically, check the chain to be sure it is not getting loose, and keep it appropriately oiled. Check the tires for the correct amount of air pressure, and check the breaks to be sure they are responding properly and not sticking. Be sure the seat is in the correct position for your size and the bolts and fasteners are tight.
PROTECTIVE EQUIPMENT, CLOTHING & SHOES:
Your helmet should have a sticker indicating that the Consumer Product Safety Commission (CPSC) has certified it. Always wear your helmet, properly fitted, with the straps correctly fastened. A helmet which rocks on the head, is incorrectly fitted, or tilted back on the head provides too little protection. Helmets are not made to have hats or caps worn under them, as these will prevent the helmet from fitting your head correctly. If you have a serious fall, have an expert check it to see if your helmet is damaged. If a helmet is cracked, then it took the impact, protecting your head. Consider that to be a good thing, and buy a new one.
Wear knee and elbow pads to help protect against more serious bone and joint injuries or fractures in a fall.
In the daylight, wear bright colors and reflective orange or yellow vests. At night, wear very light to white clothing and still wear the orange or yellow reflective vests. The easier you are to spot, the safer you will be. You also can decorate your helmet with fun, reflective stickers.
Always wear good sunglasses or goggles to protect your eyes during sunlight hours. You might consider having a dark pair of glasses for bright sunlight, and a less dark one made for days with less visibility, but which still can help cut the glare and reduce the shadows.
Dress for the weather, and remember to consider possible weather changes while you are out on a long ride. It is best to wear several layers of lighter weight clothing instead of one or two heavier weight items. Multiple layers will provide better insulation in colder weather, and if you get too hot, you can take off a layer. Plan on how to secure any items of clothing you might decide to remove during your ride.
One problem all bicycle riders can have is getting things caught in their bicycle chain, such as a pant leg, shoelaces, or a dangling strap. Before each ride, check to be sure nothing can get caught in the chain. This often means using a reflective strap around a pant leg to hold it securely away from the chain.
Have identification on you, including emergency contact information, and take your cell phone with you in case you need to call for assistance.
Always ride with both hands on the handlebar, and for longer rides, you might consider using riding gloves. Do NOT ride wearing headphones!
Competitive bikers will know how to select the proper shoe. For everyone else, wear a well fitting walking shoe, with laces tucked in. Know that it is dangerous to try to ride a bicycle in shoes with sports cleats, open-toed shoes (such as sandals), or flip-flops. And absolutely do not ride your bicycle barefooted. You will not like what the pavement will do to exposed toes and bare feet!
AVOIDING COLLISIONS & FALLS:
Always be alert and follow basic safety rules. Understand that you are "invisible" to most cars, and take precautions to protect yourself. Choose to ride on wider streets with slower traffic when possible, and don¹t pass cars on the right. In city traffic, try to keep your speed at about 15 MPH, as this will give you a better opportunity to stop in a hurry. Always ride with the traffic, not against it. Drivers are more likely to see you as they approach you from the rear than they will if you are riding directly towards them going the wrong way in their lane of traffic. Realize that cars backing out of a driveway or entering the street from a parking lot or side street may not see you. Watch for them and be prepared to stop. Passengers in cars never think to look for an oncoming bicycle before opening a door. Use your mirror to look behind you to be sure it is safe, and then pull further out to the left as you pass a parked car, or slow down enough that you can stop if the door should open.
As you approach an intersection, check what is behind you in your mirror. At a red light, do not stop in a driver¹s "blind spot". If the driver is making a right turn and cannot see you when the light turns green, you are likely to be hit. Stop behind the first car and in front of the second car at the red light. Give the first car a chance to go and make sure the second car sees you before crossing the street with the green light. Be especially careful if you are next to a bus or a large truck. They have no ability to see you at all. When crossing a street at a pedestrian cross walk, it is best to walk your bike across the street. If you try to ride in a pedestrian crosswalk, you are apt to cause problems for the pedestrians. You are also more likely to be hit by a turning car looking for slow walkers but not for fast bikers.
Be very careful coming off of a sidewalk into the street. Cars will not have time to respond if you suddenly ride out into their path. If you are riding in business or storefront areas, you probably should not be riding on the sidewalk at all because you become a hazard for shoppers and pedestrians. In some communities, it is even against the law to ride on sidewalks in such areas.
Watch for pedestrians walking in your path or for children playing. Also watch for slick spots or changes in the pavement, unexpected barriers or curbs, trash or other debris such as wet leaves or sticks, puddles, gravel, rocks, storm grates, and a number of other hazards. All of these could cause you to lose control and have a serious fall.
DEHYDRATION & TEXAS HEAT:
In Texas, you need to understand the symptoms and risks of dehydration and take appropriate measures to prevent it. Dehydration is really an excessive loss of water in the body. Drink plenty of water before going out, and take extra water with you. Know where you will have access to resupply your water on your ride. Drink regularly throughout your ride, often at about 20 minute intervals. Avoid caffeinated drinks before and during your ride. If you develop dark yellow urine, become fatigued or thirsty, have a headache or dizziness, or experience tachycardia (an extra fast heart rate), get into a cool place to rest for a few minutes and start drinking more water. If you do not feel better soon, call for help. Severe cases of dehydration can require IV treatment by a medical professional.
INDOOR BIKING:
There are about three types of indoor bikes to chose from, depending upon your goals and physical condition. A recumbent Bike has you sitting more or less in a chaise lounge position with the pedals out in front of you. It is easier on your back, and a lot easier on your bottom. An upright bike is really like a regular touring bike, only you aren¹t going any place. An indoor cycling bike mimics a racing bike with the lower handlebars. It also is referred to as a spinner.
Spinning and other forms of indoor biking are excellent low-impact aerobic exercises. Indoor biking is also a good exercise program for people wanting to lose weight or improve conditioning without putting great stresses on the knees. The drawback is that not all muscles in the legs are being used in equal proportion. You will probably need to also do some other form of exercise, such as walking, to help maintain reasonable overall muscle tone.
Overuse injuries can occur, however, if you are using a bike that is not correctly set for you and your height or if your posture is poor. If your back or neck aches after a spinning workout, raise the handle bar and be conscious to keep your spine in good, straight posture. There is no need to ride a stationary bike bent over the handlebars as if you were competing in the Tour de France, unless, of course, you are training to compete in the Tour de France. Also try adjusting the angle of the seat just slightly downward, but not to the point where you slide off. This should also help your back hold good posture while spinning. Pain in the knees from spinning indicates that the seat is probably too low or at the wrong angle. It also could be that your foot is not in good position on the pedal or that the resistance is too much for your current level of leg strength and conditioning.
It is best to use a firm soled shoe, to give your feet better support while riding.
— Tom Parr, M.D.
COMMON SPORTS INJURIES & SAFE PARTICIPATION
Baseball & Softball
Basketball
Bicycling
Boating & Waterskiing
Cheerleading & Gymnastics
Dance
Fishing
Football
Golf
Horseback Riding
Ice Skating & Hockey
Martial Arts
Personal Conditioning
Running & Jogging
Skateboarding & Rollerblading
Skiing & Snowboarding
Soccer
Swimming
Tennis
Track & Field
Volleyball

SPORTS MEDICINE RECOGNITION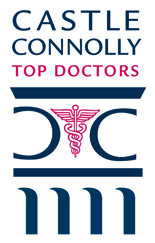 Recognized as one of the "Top Sports Medicine Orthopedic Surgeons in the USA" by Castle Connolly.
Dr. Parr has been named as an "Outstanding Orthopedic Surgeon of Texas", as seen in SPORTS ILLUSTRATED.

SPEAKER'S PROGRAM:
Dr. Parr enjoys teaching parents and coaches on the various aspects of sports safety. If you would like him to speak to your group, please call us.




free Wi-Fi
for our patients
in our office


Follow us on Facebook